Interview with the current custodian of the Lichen sanctuary, Fr. Wiktor Gumienny, MIC  
What word would you describe the years of your ministry at the Licheń Shrine?  

Service. It is needed by all those who come to our Sanctuary. I tried to help them so that they could come closer to God, so that they could renew or even find the way to God. And doing this requires service to your fellow man.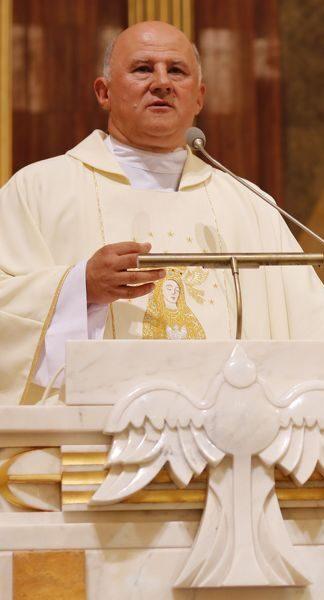 During these 22 years, which event was the most difficult challenge from the boss and host's point of view?

There is an unequivocal answer - the first is always the most difficult challenge, because then the paths are paved and then followed. It was the same in my case. The most difficult and demanding event was the preparation of the visit of the Holy Father, John Paul II. All others, incl. the beatification of Stanisław Papczyński, the dedication ceremony of our basilica and the transfer of the Miraculous Image of Our Lady of Licheń to it were already on a smaller scale. In organizing the pilgrimage of the Holy Father, we cooperated with all organs, incl. with the police, the authorities of the then Konin Province, the Government Protection Bureau and all other units. Fortunately, I have been working in Licheń for three years and have already settled down a bit. Then the paths of cooperation were cleared. I would like to emphasize that this cooperation went very well. I could count on the help and favor of both people and institutions. Later celebrations were about refreshing the paths that had been worked out earlier.

How has the Lichen Sanctuary changed since 1996, when you started working here?

I would like to emphasize that in 1996 I was not the custodian but the superior of the religious community of Marian priests and brothers. I took over the custodian duties in 2004. There was no basilica in the landscape of Lichen when I arrived. It can be said that it was in its infancy - it had been built for two years. This is a fundamental difference. Now that pilgrims see the basilica in all its glory, they may not even wonder how powerful this change was for the site. A little later, the Ark pilgrim house was built, and last year, the Bethlehem pilgrim house was opened. If we go to Grąblin with our thoughts, we must remember about the Annunciade Sisters who lived there eight years ago and about the Church of Our Lady of the Ten Evangelical Virtues built by their community. We also built a footbridge over the road in Grąblin. In this way, we wanted to increase the safety of pilgrims visiting the Grąblin forest. These are material things that can be seen with the naked eye. The trees planted in the Sanctuary over the past 22 years, especially where the basilica is located, have grown and grown dense. It also makes me very happy.

Which initiatives are you particularly proud of?

So far I have talked about material things, but I do not think that they are the most important. In my opinion, the ones that are less visible, but more valuable are the Licheń Family and Addicted Support Center and the Hospice. st. Stanisław Papczyński. In other words: for me, the works of charity carried out in the Sanctuary are more important. In the hospice, we take care of the terminally ill. We try to help our patients so as to alleviate their suffering and let them go to the Father's house in dignified conditions. Those who struggle with addiction problems will find support in the Help Center. But we also think about life and that is why a naprotechnology clinic was also established in the Aid Center.

What did you think when you found out about the Provincial's decision to move to a new place?

I will use an image. Several years ago we planted linden trees along the fence near the new pilgrim house in Bethlehem. Before, these trees grew along the wall at Toruńska Street. When we replanted them, these linden trees were already several years old. In order to do this, their limbs had to be shortened and their roots extracted from the soil, and it was not easy. Then they had to be transported and finally dug into the soil in a new place. Today you can see that all of them have taken root and have beautiful green leaves. However, for this to happen, one thing was necessary - it had to be watered frequently and abundantly. This was a condition for their good rooting and further growth. We've made it. Today, we enjoy the beautiful linden trees growing along the avenue leading from the old to the new part of the Sanctuary. The same applies to my relocation. After 22 years of service in Licheń, it is not easy. Looking ahead, I think I may be needed wherever Father Provincial has sent me. However, for this to succeed, I will need this watering, that is the prayers of those whom I tried to serve in Licheń. I am asking for this prayer.

And where will you work from August 26 this year?

I will minister among the Polish community. I was assigned to London, to a personal parish led by Marian priests in the western part of the city called Ealing. A personal parish means that Poles from all over London can apply for membership. In Poland, we are used to a territorial parish, i.e. one to which the faithful from several nearby towns or several streets in the city belong. The parish on Ealing is the largest Polish parish in London. I have no experience working with Poles living abroad, but I am a moderate optimist.  

Who will help you in the pastoral work in the new place of ministry?

Four of us are going to London. The function of the parish priest and treasurer of the parish will be performed by Fr. Michał Kozak, MIC. I will be the superior of the religious community. Our younger brother, Fr. Jakub Biernacki, MIC, who will be the parish vicar, and Fr. Grzegorz Leszczyk, MIC.

 
Do you know English?

I studied in high school. But today he is not my forte. I am comforted that, above all, I will work among the Polish community that still speaks Polish. However, in order not to feel alienated from the environment in which I will be working, I think I will have to learn English over time, at least enough to be able to communicate.

What about your hobby, which is fishing. Fishing conditions are perfect in Licheń, and how is it in London?

All I can say is that I caught the biggest pike I have ever caught in the waters of the Thames, near London (smile).

You were the initiator of the "Preparation for general confession" retreat, which has been held in Licheń for many years and enjoys unflagging popularity. Will you transplant them to British soil?
 
It is not a simple matter. Participants of these retreats often ask why there is no such meeting at their home parish. As a priest, I can preach the word to several or several hundred people. This is not a problem. The problem arises when it comes time for confession, which often lasts several dozen minutes, and sometimes even several hours. It is often a confession from several years or even from the whole life. A parish priest from a given parish could prepare and conduct such a retreat, but the problem is the number of priests who have to serve in confessionals at the most important moment of this retreat. There are many priests in the Licheń Shrine, which is why we have no problem organizing this type of retreat. In other places, such as in the aforementioned London, it will be difficult due to the limited number of priests.

And finally, I would like to ask whether, humanly speaking, you don't feel sorry to leave Licheń?

Of course, it is not easy if 22 years have been spent in one place. I can't pretend it's easy for me to leave my old place and move from yes to new. It is not easy. However, when I look at what is behind me, I see how much I owe to God's protection. I really have something to thank God for! I also believe that the fact that I am going to London is His will. And since in Licheń God did good through my person, I believe that the same good will be done wherever I go.  

Thank you, Father, for the conversation and cooperation so far. I wish you many God's favors.

God bless you. I cordially greet and bless you all. Praised be Jesus Christ.
Interviewed by Robert Adamczyk
Lichen Stary, August 20, 2018