On September 8, on the feast of the Nativity of the Blessed Virgin Mary, the Marian priests and brothers renewed their religious vows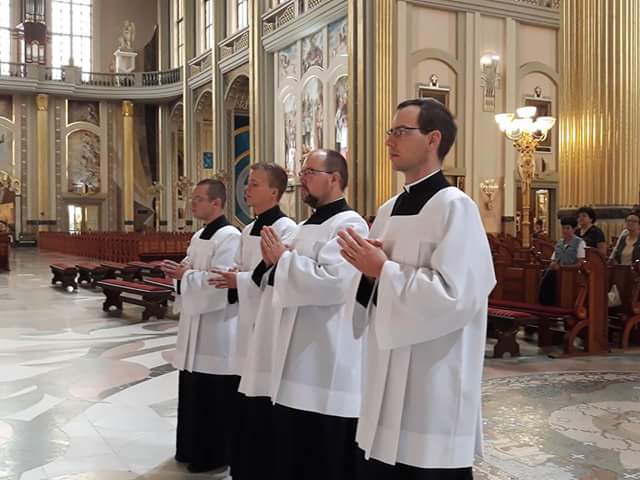 The Holy Mass was presided over by Fr. curator Janusz Kumala, MIC, curator of the sanctuary. 4 seminarians from the Seminary of the Congregation of Marian Fathers renewed their vows. Each of them took three vows: chastity, poverty and obedience. At the end, the hymn "Mother of God Immaculate" was sung.  
The Marians are a congregation founded in the 17th century by St. Father Stanislaus of Jesus Mary Papczyński, who worshiped the Immaculate Virgin Mary in a special way. Exactly 347 years ago, in 1671, St. Father Founder adopted the white habit in honor of the Immaculate Conception of the Blessed Virgin Mary.  
The Congregation of Marian Fathers of the Immaculate Conception, because this is the full name of the Order of the Guardians of the Licheń Sanctuary, wore white monastic habits for a long time. Black cassocks were not used until the beginning of the 20th century to resemble the diocesan clergy. This change was made by the Restorer of the Congregation, Bl. Jerzy Matulewicz.