The parishioners of Licheń, priests from the religious house of the Congregation of Marian Fathers and priests from Konin deaneries prayed together during the Holy Mass. in the parish church in Licheń, on the memorial day of St. Dorothy, virgin and martyr, patron saint of the temple (02/06).
Solemn indulgence sum at 17.00 was presided over by Fr. Dariusz Hirsch, MIC, resident of the religious house of priests and brothers in Licheń. The Holy Eucharist was concelebrated by, among others Fr. Bogusław Binda, MIC, superior of the community, Fr. Janusz Kumala, MIC, the curator of the Lichen sanctuary, and Fr. Henryk Kulik, MIC, pastor of the Licheń parish.
In a word addressed to the faithful, Fr. Hirsch pointed out that St. Dorothy teaches us today to stay with God. - "She had a wonderful time being devoted to Jesus. It was in sanctifying grace, i.e. the parasites of iniquity have not dried up spiritually"Said the priest.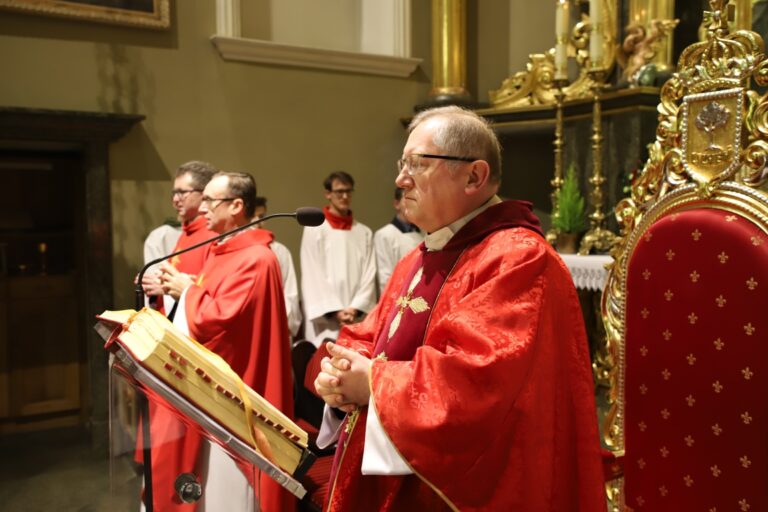 The priest also encouraged that during the Litany to St. Dorothy recited before the end of the Eucharist, everyone present in the temple prayed for the three chosen women and 3 men. 
The joint prayer was crowned with the solemn singing of the TeDeum and the final blessing given by the priest with the Blessed Sacrament. When leaving the temple, the faithful could take home apples from baskets in the presbytery, because these fruits symbolize St. Dorothy.
The musical setting for the liturgy was provided by the parish choir "Virtus Dei" conducted by Mr. Czesław Fijałkowski.
According to the tradition of St. Dorota came from Caesarea Cappadocia (today's Turkey). Her Greek name "Dorothy" means "gift from God". St. Dorothy, virgin and martyr, is found in the church of her name in Rome on Trastevere. Liturgical celebration in honor of St. Dorothy is on February 6.
Saint Dorota is the patron saint of botanists, miners, gardeners, florists, brewers, midwives, young couples and mothers. In Christian iconography, she is depicted as a young woman in royal clothes, with a diadem or a crown on her head and attributes: a rose flower or a bouquet, a wreath or shrub growing at her feet, and a basket of fruit and flowers.