On the 40th anniversary of the election of Card. For the 24th time, a pilgrimage of students from the Primary School of John Paul II from the village of Wysokie in the commune of Kramsk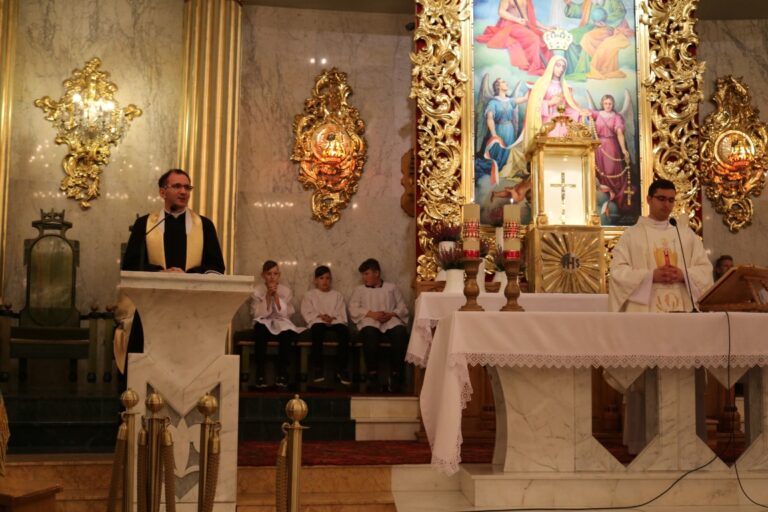 As director added Bryl, this year's pilgrimage had a unique character, as it fell on the round, 40th anniversary of the election of Card. Karol Wojtyla as Pope. Moreover, the students of the 3rd grade of junior high school participated in the pilgrimage for the last time.
Students, teachers and parents were greeted by Fr. Adam Stankiewicz, MIC, deputy custodian of the Sanctuary of Our Lady of Licheń, encouraging you to use the time in the sanctuary for prayer and a change of heart, to please God, following the example of the patron of the school, St. John Paul II.
Students of primary school grades I to IV came to Licheń by coaches. In turn, students of grades from 5th primary school to 3rd grade of lower secondary school made pilgrimages to Licheń on foot, covering the distance of 15 km between Wysokie and Licheń.
The concelebrated Mass in the Holy Trinity Chapel was presided over by Fr. Przemysław Strzelczak, vicar of the parish of st. Stanisława BM, school catechist. In the homily, the priest referred to the person of St. John Paul II, a great Pole. Referring to the Gospel read, the priest pointed out that we should not be hypocritical in our life like the Pharisees. He also pointed to the commandment of love for God and neighbor as the most important that we should follow in our lives. The priest encouraged us to put them into practice, thanks to which we would be free from the burden of sin. - "And even when we get lost in life, Jesus stretches out his hand to us and wants to pick us up. He always gives us a new chance, "said the priest. He encouraged the imitation of St. John Paul II, in his love for people and the Christian example, that we would show the lost to Christ the way.
During the Holy Mass, the students of the 1st grade of primary school took a solemn oath on the school banner in the presence of teachers, parents and older friends.
The culmination of the pilgrimage was a common photograph taken in front of the main entrance to the St. Blessed Virgin Mary of Licheń.