Concert "Music and Word" performed by prof. dr. hab. Andrzej Chorosiński will open on Sunday, 5 July the 2nd International Lichen Organ Festival "Basilica sonans". Festival concerts will be held every Sunday at 14.30, until August 30 this year.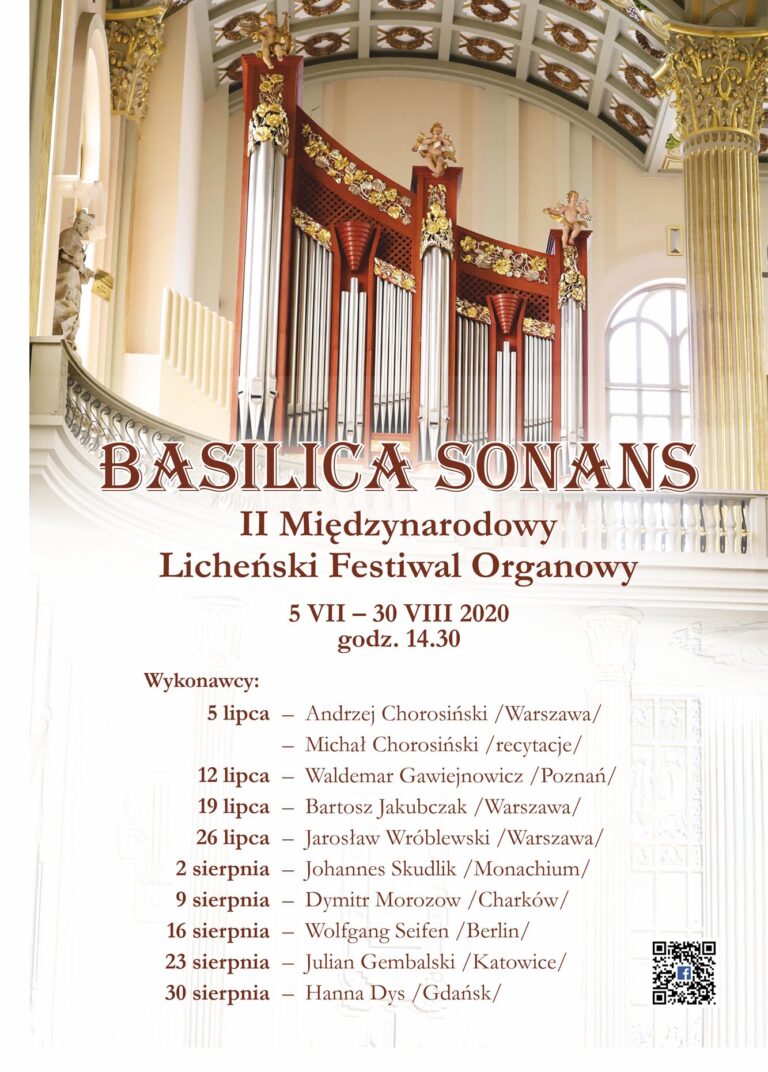 For the second time, the Sanctuary of Our Lady of Licheń will host outstanding European organists as part of the Basilica sonans Festival. The performers will present the works of the most eminent composers. The basilica will host works by, among others, Fryderyk Chopin, Johann Sebastian Bach, Wolfgang Amadeus Mozart, Franz Schubert, Richard Wagner, Feliks Nowowiejski and Mieczysław Surzyński.
Opening concert dedicated to St. John Paul II on the occasion of the 100th anniversary of his birth, will be held on Sunday, July 5 at 14.30. In the Licheń basilica performed by prof. Chorosiński will be heard, among others, by Toccata in D minor by JS Bach, Etude in C sharp minor and nocturnes by F. Chopin, as well as Elegy in F sharp minor by M. Surzyński. During the concert entitled "Music and the word", the words of St. John Paul II performed by Michał Chorosiński, a well-known theater and film actor.
First edition The Basilica Sonans Organ Music Festival enjoyed great popularity. In 2019, both Polish and foreign performers participated in weekly concerts, including Bernhard Gfrerer from Salzburg, Jan Van Mol from Antwerp, Jean Christopher Geiser from Lausanne, Roman Perucki from Gdańsk and Marek Stefański from Kraków.
The organ of the Licheń basilica them. st. Jana Pawła II are currently the largest instrument in Poland and the fourth largest in Europe. In the world ranking, they are in 10th place among sacred instruments. They consist of five parts: the main (southern) organs located above the main entrance to the temple, the organs in the western and eastern aisles, and two smaller parts located above the presbytery. The individual parts were connected by an electronic route in a collective, six-channel game table placed in the presbytery of the basilica. In total, the instrument has 12 323 pipes and 157 voices. The main part of the organ, weighing almost 50 tons, is equipped with the largest organ pipe of this type in Poland, made of tin - 783 cm long and weighing about 150 kg. The sound concept of the instrument was designed by prof. Chorosiński. The instrument was made by the company Zych from Wołomin.
Text: Justyna Zacharek, Sanctuary Press Office