On the fifth anniversary of the canonization of St. Stanisław Papczyński, MIC, founder of the Congregation of Marian Fathers, the faithful gathered in the Lichen Basilica thanked for the holy intercessor  
 - We must ask for the faith of a poor widow who is guided by a disinterested love for God. God cares for us every day, it is worth responding with love to His love, which is characterized by full devotion and trust - said Fr. Adam Stankiewicz.
The celebrant emphasized that the example of faith, which is the love of God, manifested in specific choices, is St. Stanisław of Jesus and Mary Papczyński. The holy founder of the Congregation of Marian Fathers has given everything he has to the glory of the Mother of God and the Holy Trinity.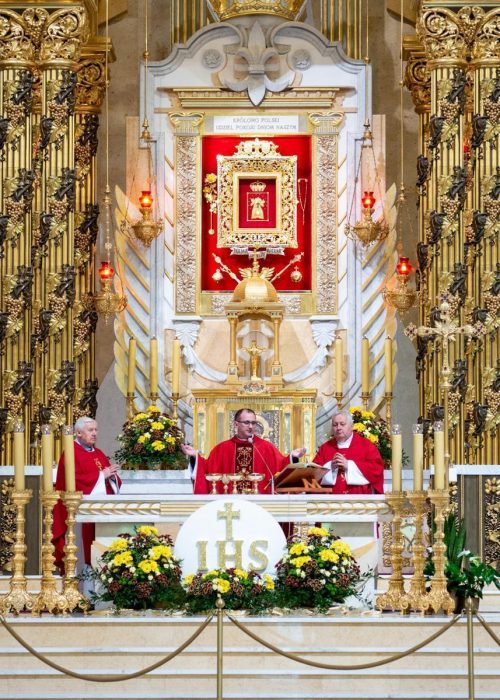 Father Stanisław, the founder of the Marian Fathers of the Immaculate Conception of the Blessed Virgin Mary, was already considered a saint during his lifetime. His beatification process began in 1767, although it was not until June 13, 1992 that John Paul II announced the Decree on the Heroic Virtues of Father Stanisław. In 2007, Father Stanisław was proclaimed blessed, and after 9 years, on June 5, 2016 in Rome, Pope Francis canonized Father Stanisław. A saint Marian is the patron of life: married couples who want children, parents who are waiting for the birth of a child, people whose lives are at risk, and people who want to free themselves from various types of addiction, especially alcoholism.
Father Stanisław left three goals to the first male order in Poland that he established: spreading the mystery of the Immaculate Conception of the Mother of God, prayer for the dead and the apostolate.
For the setting of the Holy Mass The Soli Deo choir from the Sacred Heart of Jesus parish in Tarnowska Wola took care of it.