Wierni z parafii św. Stanisława Biskupa i Męczennika w Kramsku pielgrzymowali w pierwszą sobotę miesiąca do Sanktuarium Matki Bożej Licheńskiej.
Ponad 70 parafian do licheńskiego sanktuarium poprowadził 7 maja ks. Wiktor Ignaczak, wikariusz. Pielgrzymi uczestniczyli w południowej Mszy pod przewodnictwem ks. prał. Sławomira Kasprzaka, proboszcza parafii w Kramsku, w kaplicy Trójcy Świętej w bazylice licheńskiej. – Często jesteśmy tu, u Matki. Bardzo się ucieszyłem, że po czasie pandemii próbujemy powracać do życia duszpasterskiego, ale tak naprawdę to ciągłe powracanie do źródła naszej wiary – mówił w homilii ks. Kasprzak.
Kramscy parafianie, od wieku przedszkolnego po nieco starszych, przeszli w pielgrzymce około 12 kilometrów, podczas której dopisywała słoneczna pogoda. Do pątników dołączyła też rodzina: Monika, Marcin, Ola i Hania. –  Córka przystępuje do I Komunii Świętej, dlatego pielgrzymka była dla nas przygotowaniem i wsparciem. Chodzimy też w pielgrzymce do Częstochowy, zawsze to duchowe naładowanie baterii. Za każdym razem zanosimy do Maryi intencje o zdrowie dla najbliższych i budowanie wspólnoty naszej rodziny. Chcemy być blisko Pana Boga i Kościoła. Pielgrzymki nas w tym umacniają – mówiła rodzina z Kramska.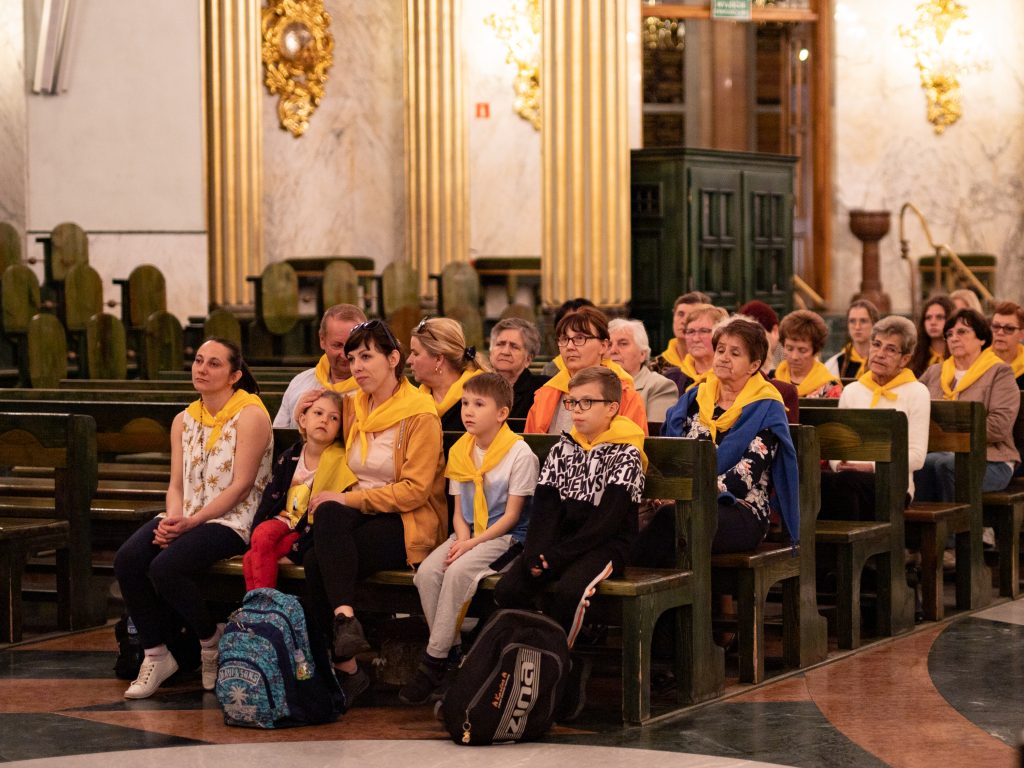 Wspólnota parafialna planuje częściej wyruszać na szlak do Matki Bożej na pieszo i autokarem,   by cały czas sobie przypominać, że są pielgrzymami w drodze do domu Ojca. – We wspólnocie w życiu Kościoła mamy możliwość spotykania nie tylko siebie w obliczu Jezusa i Maryi, ale również w obliczu samych siebie i naszych rodzin. Dzisiejsza pielgrzymka była bardzo spontaniczna, odczuwaliśmy głód za pielgrzymowaniem. Jestem przekonany, że te pielgrzymki będą liczniejsze. Mam nadzieję, że pątnicy będą świadczyć w swoich wspólnotach, że warto walczyć o wiarę i miłość, również przez praktykowanie życia blisko Chrystusa – dodał ks. Kasprzak.