Fr. Eugeniusz Makulski, MIC, custodian of the Marian Sanctuary in Licheń Stary in 1967-2004, rested today, November 14, at the parish cemetery in Licheń Stary
Marianine was accompanied by Marian confreres, family, Licheń parishioners, employees of the sanctuary, as well as the faithful who came to the funeral ceremonies.
Holy Mass the funeral was held in the parish church of st. Dorothy at 13.30 and was presided over by Fr. Tomasz Nowaczek, MIC, Provincial Superior of the Congregation of Marian Fathers. The Eucharist was preceded by a rosary led by Fr. Adam Stankiewicz, MIC, vice-custodian of the Lichen sanctuary.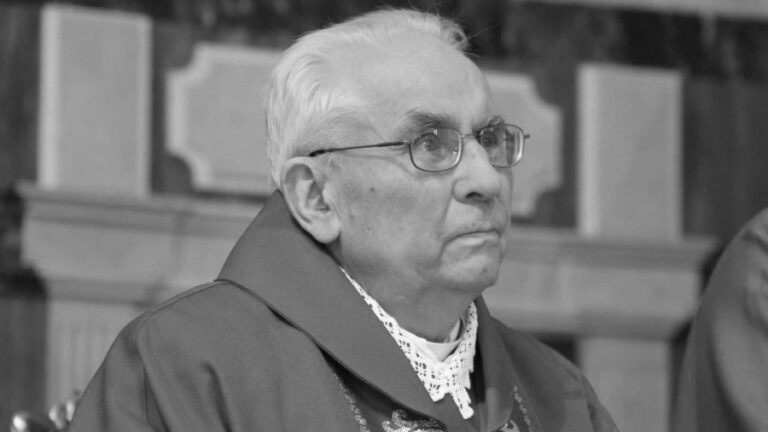 In the homily delivered, the provincial priest wondered, inter alia, on how to get closer to God regarding your own weaknesses. According to the Marian, this must be preceded by a spiritual struggle, a struggle and taking up one's own cross of weakness. - "God calls us all, as we are here, to conversion. Anyone who says there is no sin is a liar. Trusting in this truth, we pray today for the late Father Eugeniusz, that God would show him His mercy and accept him to Himself " - said Fr. Nowaczek.
After the Holy Mass. coffin with the body of the late Fr. Eugeniusz Makulski, MIC, was taken to the Licheń parish cemetery, where she was placed in a grave in the Marian quarters, near the cemetery chapel.
NS. Fr. Eugeniusz Makulski, MIC, died in the hospital in Konin on November 12, 2020. He lived for 92 years.
Lichen Stary, November 14, 2020
Text: Robert Adamczyk, Sanctuary Press Office