8 września obchodziliśmy święto Narodzenia Najświętszej Maryi Panny. Dla Zgromadzenia Księży Marianów to ważny dzień, ponieważ jest to również rocznica założenia białego habitu przez św. Stanisława Papczyńskiego. Mialo to miejsce 8 września 1671 r. w kaplicy Karskich w Luboczy przed obrazem Matki Bożej Niepokalanie Poczętej.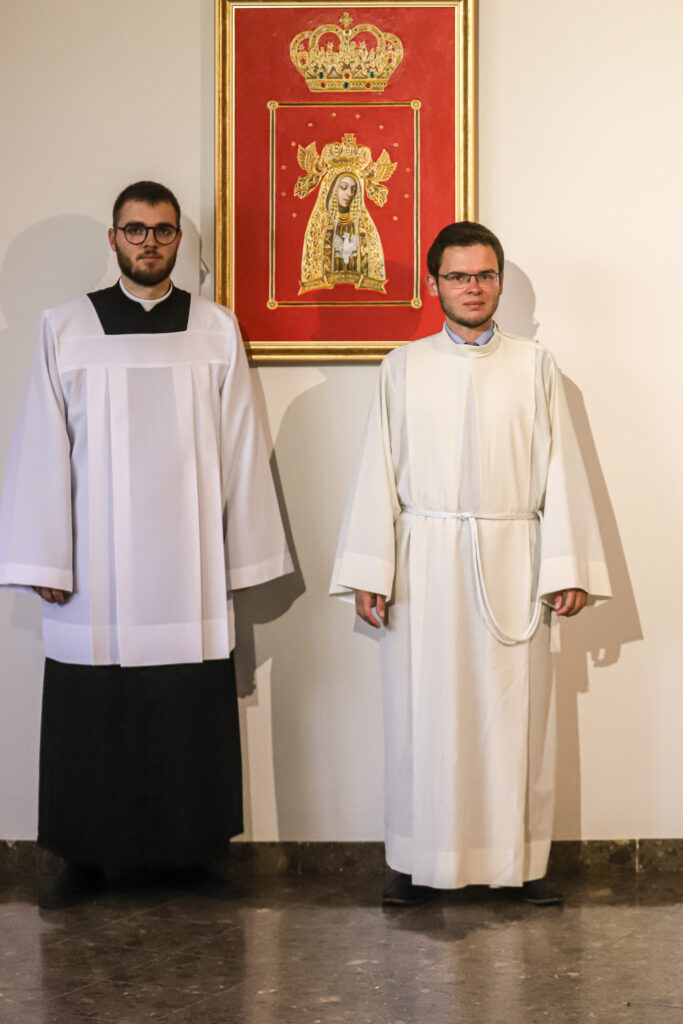 Tego dnia, co roku bracia nowicjusze po raz pierwszy składają śluby zakonne: czystości, ubóstwa i posłuszeństwa, a w kolejnych latach je odnawiają. Podczas Mszy Świętej o godz. 12 przed cudownym obrazem Matki Bożej Licheńskiej w piątek swoje śluby odnowili Maciej Lichota i Ruslan Tsehenko.
– Pokornie prosimy o modlitwę za nas i nasze zgromadzenie, byśmy na wzór Matki Najświętszej mogli służyć Bogu i wam, pielgrzymom – prosił ks. Adam Stankiewicz MIC, przełożony licheńskiej wspólnoty zakonnej rozpoczynając południową Eucharystię.Bardzo bliski jest mi mariański charyzmat modlitwy za zmarłych.
W swojej homilii zakonnik podkreślał, jak ważne dla członków zgromadzenia jest naśladowanie Matki Bożej.
– W tym wyjątkowym dniu uwielbiamy Boga za dar Maryi, Matki Jezusa, Matki każdego z nas. Za to, że jest wierny swoim obietnicom, swojemu Słowu, że dla każdego z nas w niebie uczynił mieszkanie – mówił ks. Stankiewicz.
Na zakończenie liturgii odbyło się tradycyjne błogosławienstwo ziarna siewnego.
– Bardzo bliski jest mi mariański charyzmat modlitwy za zmarłych. Czułem Boże zaproszenie do tego właśnie zgromadzenia, że Pan Bóg chce, abym właśnie tutaj był – opowiada br. Maciej Lichota, który w zgromadzeniu jest od czterech lat.
– Pociągnęło mnie to, jak marianie służą innym, posługa ojców i braci, którzy są z ludźmi. Gdy dowiedziałem się, kim są marianie, co robią i czym się zajmują, zdecydowałem, że pójdę do tego zgromadzenia – wspomina br Ruslan Tsehenko pochodzący z mariańskiej parafii w Gródku na Podolu.