W sierpniu, miesiącu maryjnym, uczestnicy warsztatów pisania ikon po raz pierwszy zajmowali się wizerunkiem Matki Bożej Ostrobramskiej, czyli miłosiernej. Na warsztaty w drugi weekend sierpnia przyjechało 16 kobiet. Podejmowały temat Matki Bożej w dwóch wersjach – tradycyjnej i dowolnej, a prowadziła je Janina Krauze, ikonopisarka.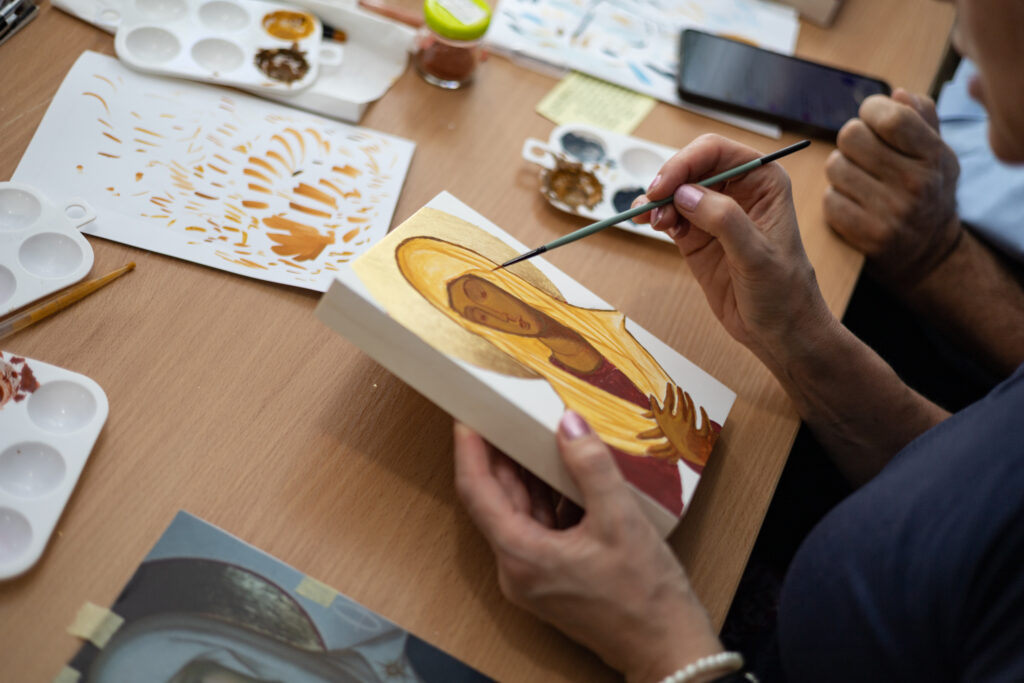 Oprócz zajęć warsztatowych uczestniczki brały udział w nabożeństwach oraz słuchały konferencji, które głosił ks. Zbigniew Grygorcewicz MIC. Marianin przedstawił podczas konferencji historię i teologię ikony. Uczestnicy rozważali werset Ewangelii według św. Jana: "Słowo Ciałem się stało i zamieszkało między nami. – To podstawa pisania ikon, Jezus jest dla nas żywym obrazem Boga niewidzialnego, pierworodnym z całego stworzenia – mówi ks. Grygorcewicz. – Jezus Chrystus to prawdziwy Bóg i prawdziwy człowiek, a Maryja jest Bogarodzicielką.
Pani Izabela z Łodzi przyjechała na warsztaty z koleżanką po raz pierwszy. – To cudowne przeżycie pod kilkoma względami. Pierwsze to piękne spotkanie duchowe z Jezusem i Maryją, drugie – artystyczne, malarstwo mnie fascynuje. Sanktuarium w Licheniu to wspaniałe miejsce, pełne przyrody wokół. W licheńskim sanktuarium otrzymałam łaskę wiary, przeżywałam wtedy ogromny stres przed operację nowotworu. Podczas powrotu poczułam ogromną radość, a później pokój – to była łaska wiary – podzieliła się wspomnieniami Izabela. – Świat ikon jest fascynujący, warto, żeby każdy go poznał. To przepiękne przeżycia duchowe. Polecam wszystkim!
Uczestniczki z Sieradza wcześniej już interesowały się sztuką, ale nigdy nie próbowały sztuki pisania ikon. – Te warsztaty to nie malarstwo. Samo przebywanie w licheńskim sanktuarium daje zupełnie inne odniesienie. Wykłady poszerzają wiedzę i objaśniają kwestie duchowe – mówią uczestniczki z Sieradza.
Kolejne warsztaty pisania ikon w licheńskim sanktuarium odbędą się w dniach 26-29 października. Ich tematem będzie Anioł Stróż.