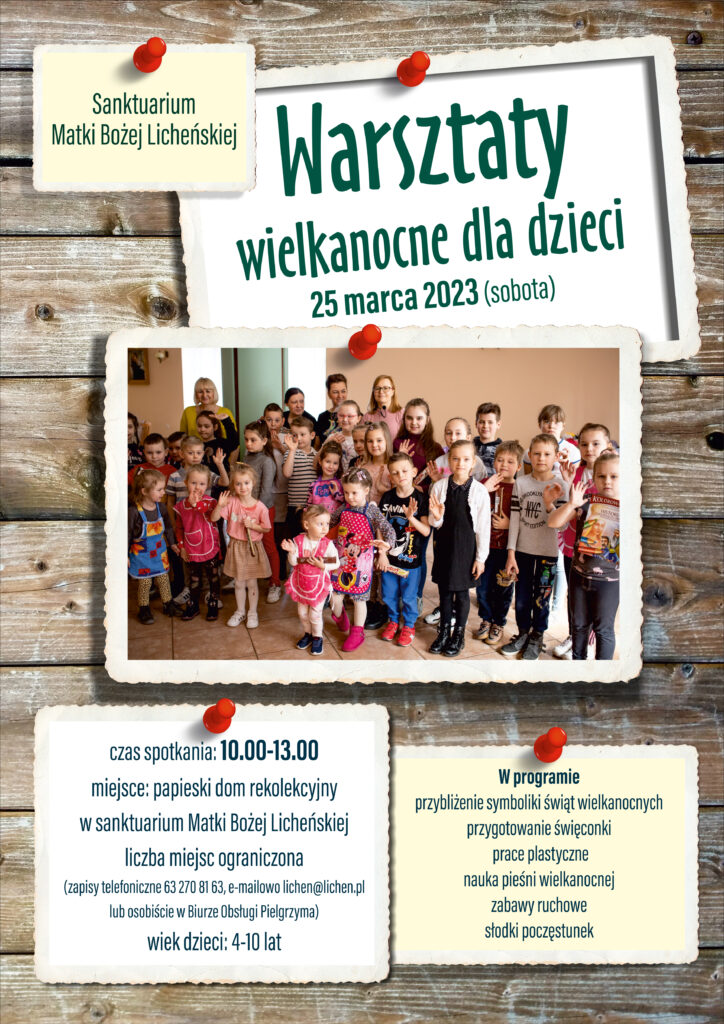 Co powinno znaleźć się w wielkanocnym koszyczku? Dlaczego malujemy pisanki? Co symbolizuje baranek i po co umieszczamy w koszyczku chrzan? – na te i wiele innych pytań dotyczących symboliki świąt wielkanocnych odpowiedzi poznają uczestnicy warsztatów wielkanocnych.
Spotkanie skierowane jest dla dzieci w wieku od 4 do 10 lat. Miejscem warsztatów będzie w Papieski Dom Rekolekcyjny znajdujący się w starej części licheńskiego sanktuarium.
Początek o godz. 10.00 w sobotę, 25 marca.
Podczas trzygodzinnych warsztatów dzieci przygotują święconkę, nauczą się pieśni wielkanocnej i wykonają ciekawe prace plastyczne. Usłyszą także o symbolice świąt paschalnych. Dla uczestników przygotowano słodki poczęstunek.
Zapisy w Biurze Obsługi Pielgrzyma: osobiście,
telefonicznie (63 270 81 42) lub mailowo: lichen@lichen.pl.
The number of places is limited.
Zapraszamy do udziału.