The tenth anniversary of its operation was celebrated at the Hospice. st. Stanisław Papczyński. On this occasion, in the Licheń basilica, people prayed for the deceased patients of the facility, and at the same time recommended the employees of the hospice in Licheń.
Southern Mass. in front of the Miraculous Picture of Our Lady of Licheń, presided over by the bishop's vicar, Fr. Wojciech Kochański from the parish of st. Maximilian Maria Kolbe in Konin. Among the priests concelebrating the Eucharist there were, among others Fr. Sławomir Homoncik, MIC, Vice Provincial of the Congregation of Marian Fathers, Fr. Sławomir Kasprzak, dean and pastor of the parish of st. Stanisław BM in Kramsk, Fr. Janusz Kumala, MIC, custodian of the Lichen sanctuary, Fr. Bogusław Binda, MIC, superior of the Lichen community of Marian priests and brothers and Fr. Piotr Wojtonis, MIC, former director of the Hospice st. Stanisław Papczyński in Licheń.
In the homily addressed to the faithful, Fr. Wojciech Kochański, referring to the works conducted by the Marian priests in Licheń, said that  the poor and the unhappy, the sick and in need of human support, help and presence, found understanding and kindness here, at the throne of the Sorrowful Queen of Poland.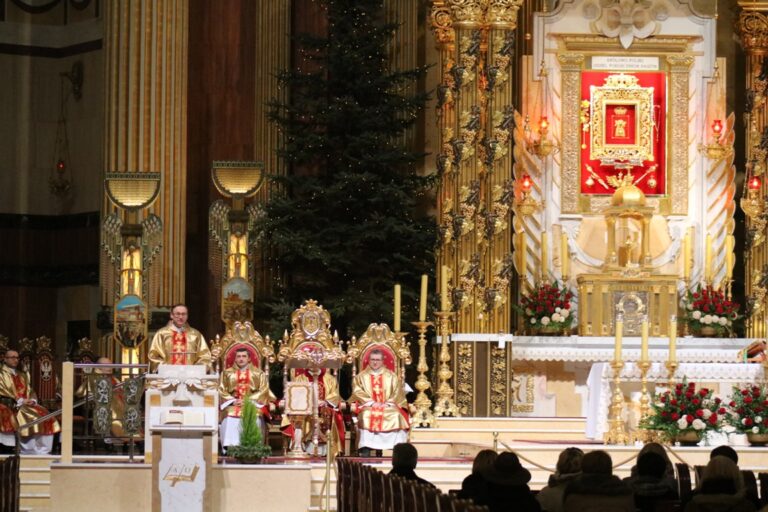 The homily also stated that in today's world, where people are looking for witnesses rather than teachers, one can experience the silent incarnation of Christianity in the service of daily work through the service of patients' beds.
During the noon Eucharist, the employees of the Lichen facility, headed by Mrs. Katarzyna Muzykiewicz, the director of the center, and Mr. Jacek Czerniak, the chief physician, also prayed.   
Among the invited guests were representatives of the Hospice. st. Jana Pawła II in Konin and Mr. Mariusz Zaborowski, mayor of the city and commune of Ślesin.
Hospice for them. st. Stanisław Papczyński was officially opened on January 6, 2009. The facility is located in a renovated and adapted for medical purposes, a former religious house of Marian priests and brothers. The hospice operates within the SPEM DONARE Foundation, the Polish translation of which means "To give hope". Currently, in the hospice building there are 22 beds for patients under palliative care.
Also read: Stationary hospice of the Spem Donare Foundation
Hospice care is completely free of charge for patients. The costs of maintaining the facility in approx. 45 % are covered by the National Health Fund. The remaining amount comes from donors, people of good will, public fundraising, personal tax 1% settlements and actions such as "Fields of Hope".
Neoplastic diseases dominate among the diseases that patients who come to the Lichen hospice suffer from. The others are: end-stage respiratory failure, primary systemic atrophy involving the central nervous system, pressure ulcers and cardiomyopathies.