On 01/01/2021, by a decree of the Bishop of Włocławek of 31/12/2020, Fr. Rafał Krauze, MIC, is the pastor of the parish in Licheń Stary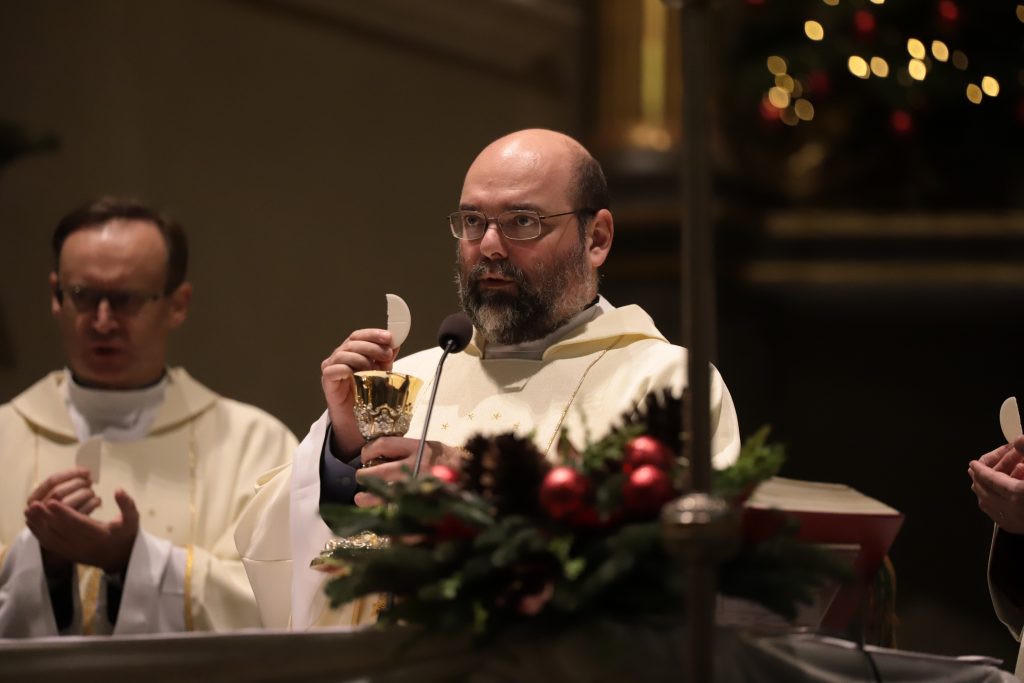 The rite of installing a new pastor into office took place on Sunday, January 3, during the Holy Mass. at. 10.30 in the parish church of st. Dorothy. On behalf of the bishop of Włocławek, Wiesław Mering, the post of the priest of the Licheń parish was introduced by Fr. Sławomir Kasprzak, pastor of the parish of st. Stanisława BM in Kramsk, dean of the second Konin deanery. Marian priests from the Licheń religious house were represented by Fr. Bogusław Binda, MIC, superior of the community. The Eucharist was also concelebrated by Fr. Marek Kordaszewski, MIC, parish vicar.
At the beginning of the Mass, after the processional entrance to the temple, the new parish priest was greeted by representatives of the parish council. On behalf of the bishop ordinary, the new parish priest received the keys to the parish church from Fr. Sławomir Kasprzak.
In the homily, the dean said, inter alia, about the difficult situation in which Fr. Rafał had to take up a new position. He thus referred to the premature death of the previous priest of the Licheń parish, the late Fr. Henryk Kulik, MIC. -"Although the office of a parish priest is a joy, our hearts are mourning the previous parish priest. Such a takeover of the parish is not easy, especially after the person who cares about the parish, for every parishioner. That is why it is difficult for us to be so humanly happy. But God's wisdom is non-human. To see and understand it, you need to have a lot of humility and learn from Jesus himself, and it is not easy ".
Concluding his considerations, Fr. Kasprzak addressed the new parish priest with words of encouragement and encouragement in the context of his new position. - "I wish you to exercise your priesthood in such a way that your parishioners, listening to your voice, would follow the Savior".
After the homily of Fr. Rafał Krauze, MIC, in the presence of the Dean and the faithful community of his parish, made a profession of faith in accordance with the requirements of canon law (canon 833 of the PCC). After communion, the new parish priest, placing his right hand on the Gospel Book, made a pledge of fidelity, in which the faithful heard, among others, that the new parish priest with the greatest diligence and fidelity he will fulfill the duties which have been entrusted to him towards the Church, both universal and particular, in which he was called to serve, fulfilled in accordance with the provisions of the law.
Before the end of the Mass, Fr. Krauze also received a purple stole from parishioners, which is customarily used by the priest during his service in the confessional.
Lichen Stary, January 3, 2021
Text: Robert Adamczyk, Sanctuary Press Office