34. World Youth Day held in Panama this year has gone down in history. During this special celebration of young people from all over the world, the faithful could pray in front of the image of Our Lady of Licheń, a copy of which was among other images of Our Lady, brought from every diocese in Poland.
It turns out that not only was Panama in Licheń last Saturday, January 26, but also in Licheń in Panama. Young people from all over the world, encouraged by the organizers of World Youth Day, brought the most famous paintings in the country with Our Lady to share the richness of Marian piety. Polish youth brought 42 paintings with the image of the Mother of God, especially worshiped by the faithful in their dioceses. The Diocese of Włocławek was represented by a copy of the Miraculous Image of Our Lady of Licheń.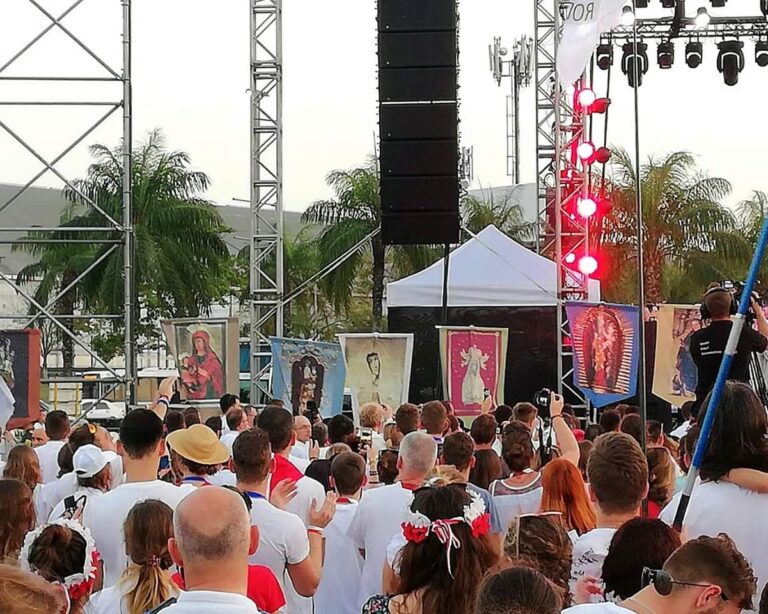 The paintings were exhibited during the WYD Central Events week, and the young people could not only get to know them, but also tell their peers about the Marian cult associated with a given image.
During the Polish National Meeting on January 23, feretrons with images of Our Lady of Poland were placed in front of the altar, including Our Lady of Licheń!
The youth of the Włocławek diocese left the images of Our Lady of Licheń in their host families in the week preceding the central celebrations.
The Central Events of WYD Panama 2019 took place on January 22-27, 2019 under the slogan "Behold, I am the handmaid of the Lord, let it be done to me according to your word!" (Luke 1:38). They were preceded by Days in the Dioceses, which were organized on January 17-21, 2019 in Panama, Costa Rica and Nicaragua.