On the eve of Divine Mercy Sunday, the community of the Families of Nazareth Movement made a pilgrimage to the Sanctuary of Our Lady of Licheń. Holy Mass in the Licheń basilica was presided over on April 10 by Fr. Bishop Andrzej Siemieniewski, Delegate of the Polish Bishops' Conference for RRN.
The day of prayers under the slogan: "The Holy Spirit comforts and leads to the truth" began with the Marian Fathers greeting. Fr. Bogusław Binda, MIC, the superior of the Marian community in Lichen, talked about the life and holiness of St. Father Stanisław Papczyński, founder of the Congregation of Marians of the Immaculate Conception of the Blessed Virgin Mary. With their testimonies about the favors received through the intercession of St. Father Papczyński during the pandemic divided the members of the Families of Nazareth Movement. They also prayed through the intercession of St. Father Stanisław Papczyński for those suffering from coronavirus and for those undergoing postovid rehabilitation, and for the intention of protecting young people from depravation.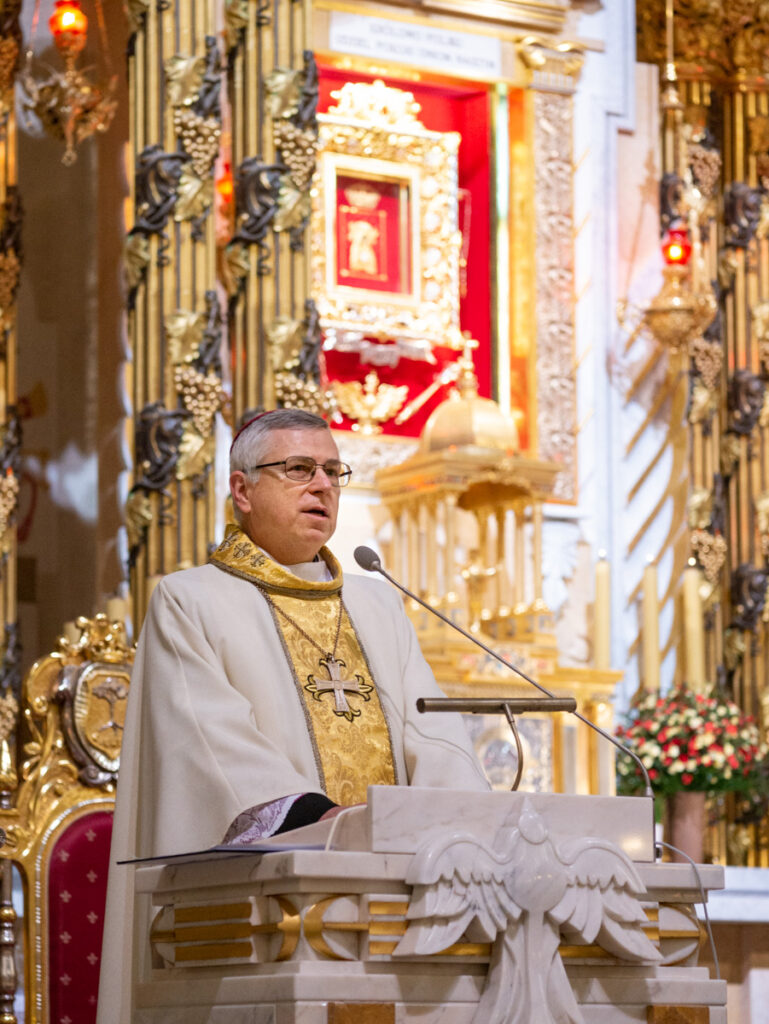 The central point of the pilgrimage was the Eucharist in the Licheń basilica, presided over by Fr. bp. Andrzej Siemieniewski, who also delivered a word to the gathered people. The bishop emphasized that the Holy Spirit brings real consolation, unlike earthly pseudo-children, such as stimulants, which facilitate a desperate escape and darken the memory. - The Church is a space for the action of the Holy Spirit who never ceases to breathe - said the hierarch. He also told about the gesture of raising the head towards the light, using the example of the eleven apostles who, overwhelmed with sorrow, heard from the risen Christ to raise their heads. - Today is a good time to see and hear how the Holy Spirit is working - the bishop said to the pilgrims. - And we, who are given the opportunity to participate in the Eucharist, are carriers, emissaries of hope - he admitted. After the Eucharist, the participants gave the act of devotion to the Divine Mercy Movement through the intercession of Our Lady of Licheń.
The Families of Nazareth Movement was founded on the initiative of Fr. Tadeusz Dajczer († 2009) and Fr. Andrzej Buczel († 1994) and a group of lay people who created the first evangelizing community in 1985 in Warsaw. The student group started to appear in marriages and families that wanted to live a deep spiritual life. As Fr. Kowalczyk, the idea of the Movement is to live the spirituality of the Holy Family of Nazareth: "The first step is to imitate the spirituality of the Holy Family, the period of hidden, everyday, ordinary, simple life, and at the same time focused on deep spirituality, contemplation and mysticism." Currently, the Movement, formally in 25 dioceses, has the status of an association of the faithful with diocesan law.