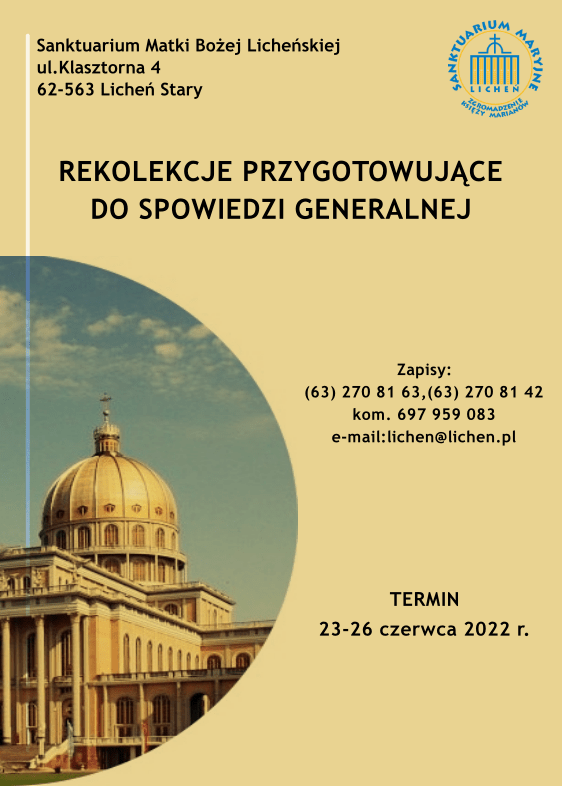 Pojednanie się z Bogiem w sakramencie spowiedzi generalnej wymaga rzetelnego przygotowania. Podczas katechez oraz konferencji, uczestnicy rekolekcji zostali przygotowani do wyznania Panu Bogu swoich grzechów, win oraz słabości.
Słuchacze otrzymali także możliwość codziennej Eucharystii oraz modlitwy Koronką do Miłosierdzia Bożego. Było także dużo czasu na modlitwę własną, rozważania i refleksje.
Rekolekcje w dniach 23-26 czerwca poprowadził ks. Adam Stankiewicz MIC.
We encourage you to participate in the next editions. Registration for the retreat is accepted in Pilgrim Service Office daily, from 8.00-16.00. Applications can also be made via e-mail, e-mail: lichen@lichen.pl
Rekolekcje cieszą się bardzo dużym zainteresowaniem.  Liczba miejsc jest ograniczona dlatego o przyjęciu na rekolekcje decyduje kolejność zgłoszeń. Więcej informacji here.
The full offer of retreats organized in the Licheń Shrine can be seen in the retreat calendar for 2022.
We invite you!