Faithful to the Catholic Church pray that the dialogue between Christianity and Judaism will be marked by love, forgiveness and looking for ways to one another.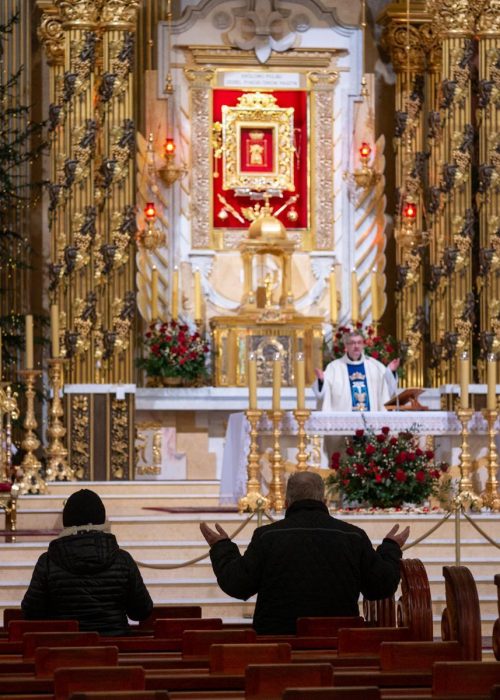 Holy Mass in front of the Miraculous Picture of Our Lady of Licheń at 12.00 was celebrated on January 16 by Fr. Janusz Kumala, MIC, custodian of the Lichen sanctuary. The Eucharist was celebrated according to a mass form about the Blessed Virgin Mary, the chosen daughter of Israel.
In his homily, the curator of the sanctuary emphasized that although the day of the dialogue between the Catholic Church in Poland and Judaism from the very beginning aroused various emotions, the intention of the Polish Bishops' Conference was to draw attention to the ties between both denominations. - In the preface we will hear the words so that all peoples know that salvation comes from Israel. These words clearly remind us that Israel, the chosen people, is present in God's plan of salvation, said Fr. Kumala, recalling that the long process of revelation and the Good News about the Messiah was passed on by God through the Jewish people, which was not only chosen but also loved by God. 
When we consider Catholics' relations with Judaism, it is important, first, to get to know oneself, e.g. traditions, what is the source of Christianity. - And, above all, pray that the chosen people will be faithful to the covenant they have made with God - continued Fr. Kumala. - We have many problems in our relations with the chosen people, but that is no reason not to overcome these difficulties. You have to look through the eyes of God, who wants to save every person and sent the Messiah through the chosen people. Christ, a pious Jew who followed all the traditions of Judaism at that time, is the one who brought salvation to all peoples. We trust that God still has his plan to save the whole world - said the curator priest. - We all need Jesus, we all need healing. Today, let us pray for the presence of Christ, the physician, for us and for the chosen people. Pray that the relationship of Judaism and Christianity will be marked by love, forgiveness and looking for ways to one another, because we all go to heaven - finished.