Members of the Union of Repressed Soldiers of Miners thanked God at the Sanctuary of Our Lady of Licheń for 30 years of existence and revealing the truth about the communist persecution.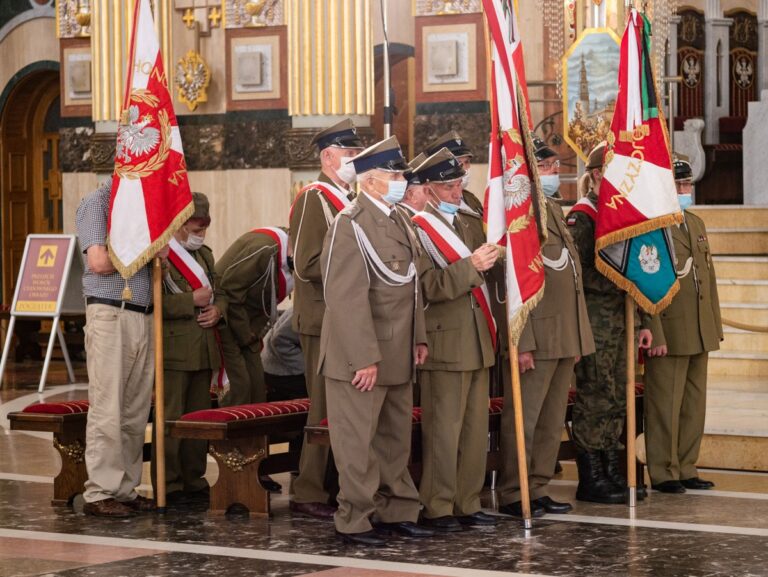 For the 20th time, soldiers miners made pilgrimages to the Licheń sanctuary, forced to work in quarries, uranium and coal mines in the years 1949-1959.
"In 1991, after decades of communist enslavement, we were finally allowed to show the truth about military mining battalions," said Bolesław Karandyszowski, president of the District Board of the Union of Repressed Miners in Bydgoszcz
Soldiers with their families, Maciej Bogdanowicz, Governor of the Kuyavian-Pomeranian Voivodeship, Bolesław Karandyszowski, president of the District Board of the Union of Repressed Miners' Soldiers in Bydgoszcz, Lt. Maciej Sandomierz from the Provincial Military Staff in Bydgoszcz, Fr. major Tomasz Krawczyk, Fr. Adam Stankiewicz, MIC, the deputy custodian of the Lichen sanctuary, and the Polish Army gathered at the monument in the sanctuary, which was erected as a votive offering for the miners' soldiers for their lives.
The participants took part in the memorial and laid flowers at the monument. There was also a salvo of honor.

Voivode Maciej Bogdanowicz emphasized that the so-called enemies of the people, all whom the communist authorities considered as a potential threat to their existence. - Backbreaking work, which the soldiers, miners and builders were forced to do, was supposed to break the spirit of the young generation, who lived their childhood during the war - stated the voivode.
At noon, the miners and their relatives participated in the solemn thanksgiving Eucharist presided over by Fr. major Tomasz Krawczyk. The gathered people were greeted by Fr. Bogusław Binda, MIC, superior of the Licheń religious house.
- The soldiers worked 16 or even 20 hours a day. I want to thank you for not extinguishing the spirit of faith and patriotism. Yes, you were ordered to be silent. The lie has been stronger for years than the truth about you, but the truth cannot be silenced! - said Fr. major Tomasz Krawczyk.
"How hard it was for us to live from the end of the service until 1991 is evidenced by our memories in books and press articles. Let our mining cry - God bless - last for the next years of our activity "- said President Bolesław Karandyszowski
Text and photos: Sanctuary Press Office