On Sunday of the Word of God in the House of the Licheń Mother, "Thank you" was heard during the 3rd Family Day of Grandma and Grandpa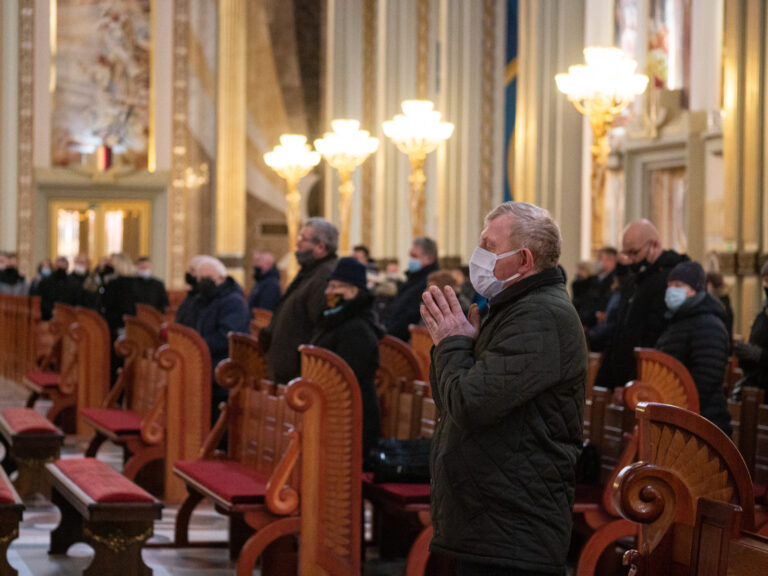 Southern Mass. for pilgrims, donors and benefactors of the Sanctuary of Our Lady of Licheń, presided over by Fr. Janusz Kumala, MIC, custodian of the Lichen sanctuary. In prayer, he entrusted to God the family celebration of Grandma and Grandfather's Day, but also Christian unity, Croatia affected by the earthquake and the health of Pope Francis. - "Let us trust in her who watches over this place as Mother of the Church on our way to heaven" - he reminded, encouraging to put your heart in order and the courage to change your life at the confessionals' bars.
Fr. Kumala emphasized that the Sunday of the Word of God, established by Pope Francis, is to draw our attention to God who speaks. - "We want to accept the gift of the Word that strengthens us and in which we meet Jesus Christ. Sometimes we think that God is silent. In various circumstances of life, we forget that God speaks to us, primarily through the Word of Sacred Scripture, that He loves us and cares for us. We need to become even more aware of the presence of Christ in our lives every day through the Word of God, not only on Sundays " - said the curator, encouraging everyone to read the Holy Book every day to hear the Word that has the power to transform and enlighten the way of life.
Through the Gospel read on the Sunday of the Word of God, Christ says: "The time is fulfilled and the Kingdom of God is at hand. Convert and believe in the Gospel! ". - It can be said that in these words Christ summed up his entire mission. What does this conversion mean? Receiving the Word of Christ that changes us from within. There is no conversion without believing in the Good News and Jesus. The world and life are passing, but we will remain in God for all eternity, this is the Good News. God is the source of the highest happiness that we should feel every day - explained Fr. Kumala. As an illustration of the change of life, he presented the calling of the first disciples who leave everything and respond immediately to the call.
In the context of the Family Day of Grandma and Grandpa, the curator of the Lichen sanctuary emphasized that in order to notice a person, that is to show love and gratitude, one must first meet Jesus. He drew attention to the loneliness of seniors and the need to face their difficulties. - Showing love, gratitude and patience enriches us. Let us entrust all grandparents, also accompanying us through the media, to Our Lady of Lichen, who always watches over every Licheń pilgrim - said Fr. Kumala.