W dniach 26-28 sierpnia odbyły się rekolekcje "Eucharystia – studnia bez dna i przepis na życie", w których uczestniczyły 24 osoby. Podczas rekolekcji uczestnicy poznawali znaczenie znaków i symboli liturgicznych, aby móc całkowicie i w pełni oddać się przeżywaniu Eucharystii.
Rekolekcje składają się z części mistagogicznej, wyjaśniającej znaki i symbole obecne w czasie Mszy św. oraz drugiej części bazującej na doświadczeniu, prowadzącej uczestników rekolekcji do spotkania z Chrystusem. Obie objaśnia ks. Sławomir Homoncik MIC, prowadzący rekolekcje. – To stworzenie przestrzeni i warunków do tego, aby pielgrzymi znaleźli się w Wieczerniku i doświadczyli spotkania z Jezusem Zmartwychwstałym. Spotkanie to służy pogłębieniu więzi, wypływającej z Eucharystii – tłumaczy ks. Homoncik. – Często brakuje nam jeszcze głębszego doświadczenia, kiedy człowiek może pozwolić sobie na czas refleksji, odbierania obecności Chrystusa zmysłami. Postawienie swojego serca przy sercu Pana Jezusa – zauważa.
Danuta z Wałbrzycha przyjechała do licheńskiego sanktuarium po raz piąty, bo pokochała to miejsce. – Można przyjechać do sanktuarium prywatnie, uczestniczyć we Mszy św., spacerować, ale ja szukałam rekolekcji. Konferencje są bardzo pouczające. Po raz drugi uczestniczę w rekolekcjach dotyczących Eucharystii. Bardzo ważne jest, by zdawać sobie sprawę z tego, co dzieje się przy ołtarzu – podkreśla Danuta z Wałbrzycha. – Każdy tu odnajdzie słowo dla siebie. Nikt nie jest tu przypadkowo, Pan Bóg zadziałał przez Ducha Świętego, byśmy się tu znaleźli. Szukałam konkretnie rekolekcji nt. Eucharystii, by wzbogacić swoje uczestnictwo we Mszy św. i pogłębić wiedzę – dodaje Dorota z Białegostoku.
Emilia z diecezji toruńskiej przyjeżdżała do Lichenia, by odwiedzić Matkę Bożą, ale nie zatrzymywała się na dłużej. – Tym razem przyjechałam na rekolekcje, by pogłębić swoją duchowość Eucharystyczną i relację z Chrystusem, a tym samym owocnie przekładać ją na praktykę swojego życia, miłości do Pana Boga w parafii, by świadczyć w środowisku, do którego wrócę. Czyli realizować ten przepis na życie – podzieliła się Emilia.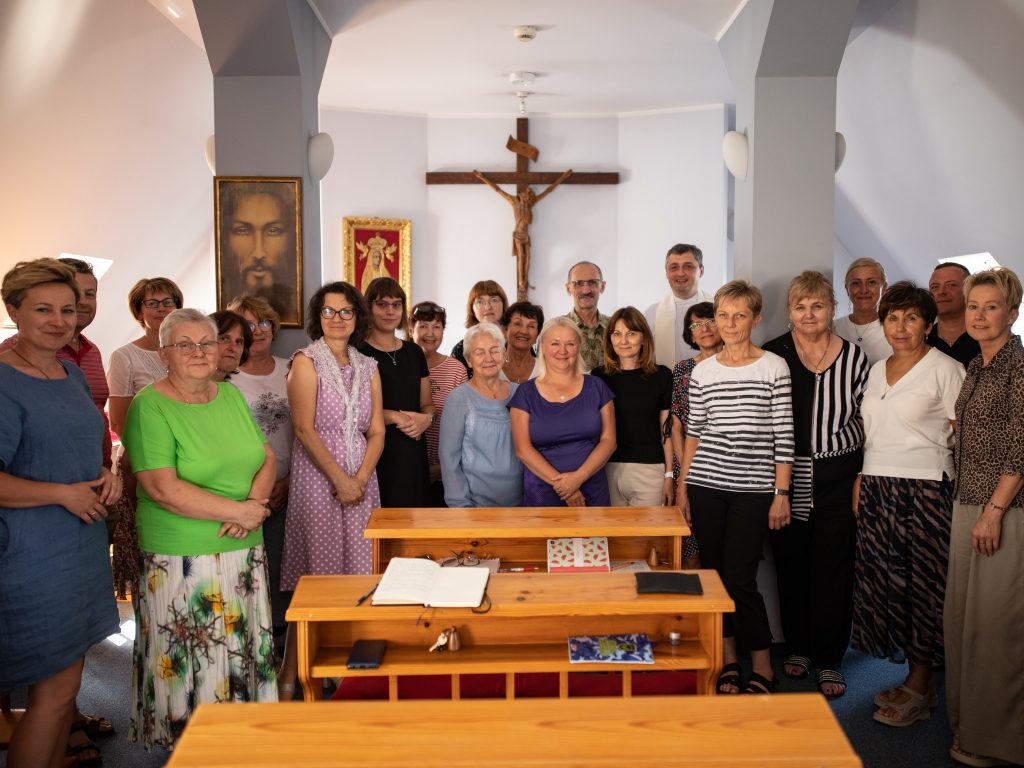 Have you wondered why we actually go to church? Why do we participate in the Eucharist? Did you feel doubt, resigned? Did you think that the Holy Mass brings nothing to your life?
Many people struggle with such dilemmas while living in a constant rush. There is no time for relationships with others, for pursuing their passions and for rest. Sometimes it's only work that counts. Matters of faith and spirit are relegated to the background. It causes us to lose our relationship with God. Conversation with Him, confession, reading the Holy Scriptures, retreats begin to cause us difficulties. By participating in the Holy Mass, we come to the conclusion that we understand little of it. We may not have had such problems in the past, but now we cannot understand the depth and richness of the Eucharist.
Więcej szczegółów here
We invite you!