The faithful gathered on Sunday at the Sanctuary of Our Lady of Licheń, thanked during the noon Mass. for the gift of Holy Baptism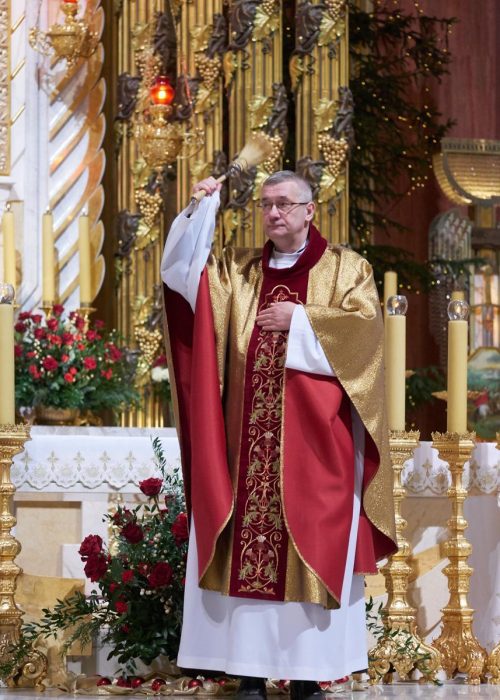 The faithful gathered at the Sanctuary of Our Lady of Licheń on Sunday, which ends the liturgical Christmas season, thanked during the noon Mass. for the gift of the first sacrament accepted in life. In memory of their baptism, the participants were sprinkled with holy water and renewed their baptismal vows.
At the beginning of the Eucharist, the celebrant, Fr. Janusz Kumala. - "The future is unknown to us, but we know that God is always with us, he is faithful to his covenant, which he made with each of us in the sacrament of baptism"  - said Fr. Kumala, recalling the scene from the fragment of the Gospel of St. Mark. Christ came to the Jordan and was baptized by St. John. - "The sinless man shows solidarity with sinners. In this way, Christ is present in our life, he does not reject us, he does not criticize or reproach us. He is close and he unites with us so that we can feel His love. He wants to cleanse us from sins, from evil and change us " Commented the curator of the Lichen sanctuary. He emphasized that God is infinitely generous in forgiving, because even if a man renounces Him, He will never turn away from man, but will always look for him and meet him, like the merciful father in the parable of the prodigal son.
He also noticed that from the Word of God emerges the image of the open heaven, that is, the revelation of God's love through the sentence: "You are my beloved son". - "We heard these words during Baptism, our parents and the whole Church heard them. It is a revelation of God's love that will last forever. Finally, these words will be fulfilled in heaven " - admitted Fr. Janusz Kumala and emphasized that through baptism we were included in the community of the Church, which obliges believers to love others and to care for this community.
After giving thanks for the sacrament of baptism, the custodian of the Lichen sanctuary encouraged us to embrace the priest who administered the first sacrament with a grateful prayer, as well as our parents, godparents, who passed on our faith and raised it.
January 10 also marked the 12th anniversary of the establishment of the Lichen Hospice st. Stanisław Papczyński. To all donors who support the hospice, we offer our heartfelt "God bless you".